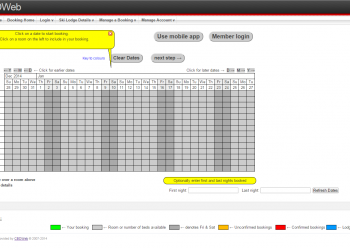 Put your lodge bookings on the web – easily!
All you need is a web browser – let CBDWeb do the rest.
Join eighteen other clubs with twenty-three lodges using the most comprehensive and flexible system available.

18.9% of all websites use WordPress (as of Feb 7 2014)1. CBDWeb has built, maintains and provides hosting for ten2 of these, and that number is growing. We chose WordPress because it is easy for you to use, for the availability of plugins and because it is a cost-effective development environment. If your website needs a plugin that doesn't exist, or an existing plugin needs enhancement, CBDWeb can build it for you.
WooCommerce is possibly the most commonly used shopping cart used with WordPress, it's a free plugin. The way the items and catalogs display is determined by the particular WordPress theme that the site is using. Each theme will determine the sizes of various thumbnails and images throughout the WooCommerce pages.
Dec, 29
New Mobile and Tablet app live
The mobile/tablet web-app allows bookings (public if you allow them, as well as members).  The app is now in use for clubs which have expressed an interest, and Paypal payments are supported – eWay coming soon.  read more
Aug, 05